We are the first company in Malta to offer LEED certification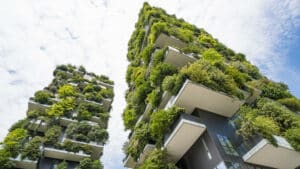 QP is pleased to announce that it has become the first consultancy firm in Malta to offer LEED® certification from the US Green Building Council (USGBC) with the addition of our newly accredited design and construction professionals.
LEED certification is an internationally recognised environmental certification system that measures how well a building, or community, performs across all assessment metrics, including resource efficiency, reduction of CO2 emission, improved indoor environmental quality and wellness, and stewardship of resources and sensitivity to their impact.
Today a LEED-certified building is an affirmation that it uses less energy and water resources, minimise waste, save on maintenance costs, improve indoor air quality, provide comfort for the occupants and while moving towards reaching national carbon neutral targets. Green building is the future, and LEED is the most widely recognised green building program in the world.
QP's vision has always been a leader in design, engineering and management in the building, infrastructure and real estate sectors. It remains at the forefront of achieving clear, functional, and sustainable designs. QP recognizes that its success is rooted in its ability to offer its customers high-quality services while, meeting their expectations and compliance with legal and safety regulations, as well as keeping up with the times and achieving and the optimal green building standards.
As an organization, QP provides technical and strategic environmental solutions for construction, infrastructure and real estate stakeholder to maintain high levels of performance, value, and quality in the built environment as well as within organizations and their operations.
Designing and executing green sustainable buildings has become a "QP standard" according to Reuben Xuereb, Chairman & CEO of QP. We have invested significantly in our team and have constantly been working hard to raise the bar when it comes to designing for the present and the future. At QP, it is not just about aesthetics. It is about how a building functions. The method of construction, the materials are chosen, and the building's life cycle assessment is key objectives of our measure of a robust, sustainable building.
QP is proud to embrace the importance of sustainability in everything it does and every project it undertakes.