Design is not just what it looks and feels like. Design is how it works.
We are a dedicated team of talented and passionate professionals with a flair for design. We design buildings that complement their environment and enrich the communities they serve.
We care about the planet, and it is our dedication to natural resources that inspires us to create urban fabrics, building volumes and landscapes that are innovative, functional, sustainable and aesthetically unique.
We want our creations to evolve with their surroundings and approach every project with an unerring determination to leave the location a little better than we found it. That's how we make our mark. By pooling their relative and practical thinking at the outset of a project, our architects and designers come up with individual, integrated and sustainable solutions.
The locations we operate in, and their individual cultures, are hugely important to us and enable QP to create inspirational environments.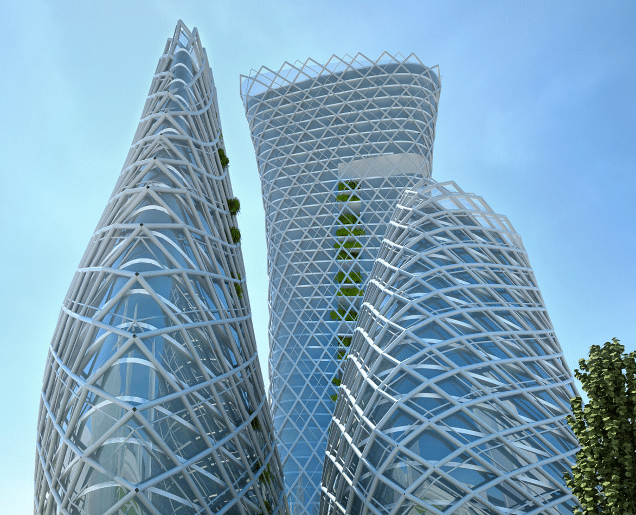 For us, architecture is about creating distinctive environments inspired by innovative design. We offer sophisticated, sensitive and timeless solutions that complement the environment and reflect our distinct understanding of form and function. Our architectural design team may be involved with a diverse array of international urban and building projects, but our ultimate goal remains the same: to create iconic buildings and spaces.
The buildings we produce come from a detailed understanding of the functions they must fulfil, the conditions they have to provide and the materials from which they are constructed. This understanding is directly translated into form and detail. Our ultimate goal is to design buildings and environments that work, inspire people and transform communities.
Through careful evaluation of relevant opportunities, inspired ideas will drive a good design to something that is extraordinary, challenging, and completely unique. With each project, we learn more about creating forms and places, serving processes and people, and minimising energy use in providing comfortable and healthy environments. We are constantly developing new components, exploring new ways of using materials, and developing innovative environmental responses. Our objective is to search for optimal solutions to create a built environment that uses the planet's resources carefully. The results are functional, economic and elegant.
As an integrated solutions provider, QP can offer a wealth of knowledge and experience in the field of architectural design in all sectors of the industry including hospitality, commercial and residential.
Access and Inclusive Design
Building Design
Building Information Modelling
Change Management
Development Infrastructure
Ergonomics and Human Factors
Heritage and Restoration
Landscape Design
Master Planning Design
Organisational Design and Development
Planning and Economics
Policy Planning
Urban Planning
Quality interiors are integral to the success of any project since these are the spaces that occupants truly experience and enjoy. With a proven track record in producing high-end interiors for the hospitality, retail, residential and commercial building industries, QP interiors distinguishes itself by providing sophisticated and tailor-made design schemes that are as practical as they are beautiful. We go to great pains to learn what our clients want and mould our approach to fit in with their individual styles and tastes to produce truly stunning solutions.
Fresh, vibrant and dynamic - we are passionate about infusing personality into the space you live, work and play. We listen, we aspire to breathe design into the lives of the user.
Each design is individually tailored to deliver a creative and practical but ultimately very personal and intimate interior. We seek to innovate, and lead, each project with excellence. We push boundaries, raise the bar and set industry trends. We discover solutions that meld the functional and aesthetic goals of our clients, creating sophisticated spaces whether contemporary, modern or classical that best befit the needs and wants of the client.
The interior design team at QP provides solutions that meet your needs. From inception of a project, our priority is to focus on understanding your aspirations and vision. Through a passion for design and quality, the team develops tailored solutions that are co-ordinated with the other project components. QP Interiors offer a broad range of experience in hospitality, residential and commercial properties. We also push the boundaries to provide a turnkey solution offering to design and build the interiors providing a seamless process.
Building and Space Analysis
Feasibility and Masterplan Studies
Project Conceptualisation and Planning
Area Allocation
Design Psychology
Interior Architecture
Spatial Planning
Interior Design
Lighting Design
Furniture, Fittings and Equipment Design
Colour and Texture
Material and Product Specification
Planning, Procurement and Co-ordinatioon
Visual Rendering and Conceptualisation
On-Site Representation
We provide wide range of solutions