A new atmosphere of tranquility in our non-stop world!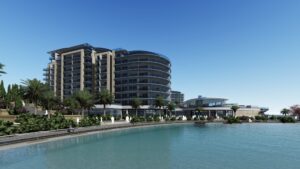 In a fast-evolving modern world, driven predominantly by technology and digital interaction, the need to completely switch off and disconnect to regain the true meaning of a healthy lifestyle has become so much more critical. QP has been engaged right from the start to lead and deliver a premium residential development that seeks to address these needs. The Shoreline is set to become a residential address providing the best combination of space planning, well-balanced indoor and outdoor areas with all the comforts and supporting facilities that one could desire.
This mixed-use development project consists of luxury apartments, penthouses, villas, a shopping centre and an underground parking facility. With a total area of around 120,000 m2 in the form of a solid "boomerang" block, the development overlooks the sea and accommodates seven individual terraced villas with their own entrances and garages. Amenities include a large swimming pool and landscaped gardens available for the private use of residents.
The project combines luxurious residential units overlooking the ocean with unmatched open views. Shoreline caters for the possible needs of all its residents and enjoys a dynamic commercial complex catering to the daily needs within walking distance.
QP is leading the Shoreline project and responsible for the full coordination of all the design and the works on site. The highly experienced team of professionals from QP working on the project are responsible for the overall management of the project including cost estimation and change control.
It is satisfying that after so many years of planning and coordination, enabling works on this extensive waterfront project have commenced and construction is expected to mobilise any time shortly.
From the very early stages, from conceptualisation, we engaged with the client and the project stakeholders to meticulously draw up a detailed project brief as a basis for a robust project budget and timeline. We use our extensive knowledge of project management techniques and cost databases to deliver a project of this scale and complexity with professionalism.
The Shoreline projects has been awarded A LEED Silver certification (design-stage).