QP completed refurbishment of the luxury Athenaeum Spa at the Corinthia Palace Hotel & Spa in Malta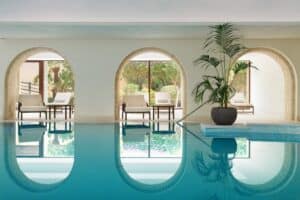 Since opening over 50 years ago, Corinthia Palace Hotel & Spa in Attard became a quintessential part of Malta. Located next to the beautiful San Anton Palace, the hotel is set in tranquil gardens. The new Athenaeum Spa is set in the same area as the original spa built 30 years ago, spread over two floors and covering 2,000 square metres.
The client's brief was to create a wellness sanctuary – with a design that should reflect the Maltese Islands and the Mediterranean basin that it is set into. The new Athenaeum was to include a long list of state-of-the-art facilities including a thermal Vitality Suite with a Vitality Pool, heated marble beds, sauna and steam room, nail bar, treatment rooms, a relaxation lounge and terrace, and indoor pool complete with a Jacuzzi.
With nurturing of both the body and mindset as a goal , in a Mediterranean oasis setting, every single element of the spa was studied carefully in terms of its colours, forms, shapes, and textures, whilst still fulfilling function.
The first focus was on communicating the experience and understanding how staff and guests come together. It was essential that the design team walked in the shoes of the operator, whilst seeing with the client's eyes – a multi-disciplinary task to deliver a spa with optimised space arrangement and cohesive style in order to achieve maximum relaxation and a seamless spa journey.
A welcoming reception, changing rooms, a peaceful pre-treatment area, treatment rooms, wet treatment spaces, and the relaxation lounge, were planned within the existing context of the site, ensuring that the guest moved from a space to another with a movement that was to be smooth and consistent not only in terms of flow, but also in temperature, lighting and sound.
Being also a tactile experience, it was decided that the finishes were to be neutral, allowing guests to relax, with soft lines, polished finishes, arches and curves all of which add to the relaxing feeling space creates. Great importance for the designers' team was also attached to connecting the indoor and outdoor spaces of the spa, with lots of Mediterranean planting being used both internally and externally.
Essentially the project involved the intricate weaving of Spa knowledge, technical and ergonomic requirements, spatial design, interior design and landscape design.
It was essential that the QP design team in collaboration with Goddard Littefair, walked in the shoes of the operator, whilst seeing with the client's eyes – a multi-disciplinary task to deliver a spa with optimized space arrangement.
Details throughout the space have been meticulously considered to add to the guest journey – natural materials including stone are celebrated and contrasted against polished marble. Columns and archways give a sense of grandeur, while the perfectly positioned greenery brings the restorative beauty of the outdoors inside. In a conscious effort for the spa to be further connected to nature, the vitality pool is both indoor and outdoor and the garden space features a plunge pool with a relaxation deck. It was important to bring the landscape indoors as well as curate the landscape outdoors, as it contributes significantly to wellbeing and quality of life